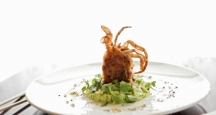 Aburiya Kinnosuke | Restaurants in New York City
Aburiya Kinnosuke is a fabulous Restaurant in New York that serves Japanese cuisine. Located in Midtown East, this dining spot is conveniently located near many top NYC Hotels.
Address:
213 East 45th Street New York, NY 10017
Cuisine: Japanese
Neighborhood: Midtown East
Price: $$$
Reservations: Taken
Hours:
Monday through Friday – 11:30 a.m. to 2:30 p.m.
Saturday – 5:30 p.m. to 12 a.m.
Sunday – 5:30 p.m. to 11:30 p.m.
About Aburiya Kinnosuke:
Aburiya Kinnosuke is one of the most popular Restaurants in New York for Japanese fare. This top eatery sits moments from an NYC Hotel near Central Park - or in the Broadway Theater District – and it offers many choices for NYC Dining, for lunch or for dinner.
At Aburiya Kinnosuke, patrons enjoying dining on food prepared izakaya style, which focuses on robata grilling. Aburiya Kinnosuke has shared its passion for preparing this type of cuisine - and providing first-class Japanese-style hospitality - since 2005.
On Aburiya Kinnosuke's opening day, the NYC Restaurant held strong to offering the essence of a Japanese meal. As the New York eatery evolved, its continued dedication to providing an authentic Japanese experience was coupled with giving NYC diners a contemporary New York Dining option – one that incorporates the offerings of NYC's top regional farmers and their produce.
Aburiya Kinnosuke's menu boasts more than 100 items, which means a New Yorker or NYC visitor has much to choose from in 1 location. The food is absolutely delicious at Aburiya Kinnosuke and the service is exceptional.
If you're looking for Restaurants in New York that serve options for many different palates – and different dietary preferences – you'll surely find Aburiya Kinnosuke a delight for Dining in NYC.
This top NYC Restaurant sits in a great Midtown location, moments from an NYC Hotel near Central Park, in Times Square, or in the Broadway Theater District.
An NYC Hotel in these areas will also be close to the top Things to do in NYC, such as visiting NY Museums, exploring Central Park, and enjoying top Activities in NYC.
NYC
Visitor's Guide
Learn about all there is to do, see and experience in the world's greatest city!