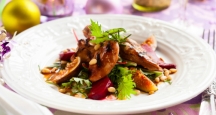 ABC Kitchen | New York City Restaurants
ABC Kitchen is a New York City Restaurant that serves Contemporary American cuisine. This Restaurant in NY is located in Flatiron, and it is a great choice for lunch or dinner.
Address:
35 East 18th Street New York, NY 10003
Cuisine: Contemporary American
Neighborhood: Flatiron
Price: $$$
Reservations: Taken
Hours:
Monday through Wednesday – 12 p.m. to 3 p.m. and 5:30 p.m. to 10:30 p.m.
Thursday and Friday – 12 p.m. to 3 p.m. and 5:30 p.m. to 11:30 p.m.
Saturday – 11 a.m. to 3:30 p.m. and 5:30 p.m. to 11:30 p.m.
Sunday – 11 a.m. to 3:30 p.m. and 5:30 p.m. to 10 p.m.
About ABC Kitchen:
One of the top New York City Restaurants near a Central Park Hotel – or a Midtown Manhattan Hotel – is ABC Kitchen. ABC Kitchen is a popular NYC Restaurant for those who seek out fresh ingredients of the highest quality. ABC Kitchen is a step above many New York City Restaurants because it offers a menu created from the season's best local produce.
While ABC Kitchen relies on nearby farms for its harvest, the NYC Restaurant presents dishes that are globally inspired. The staff at ABC Kitchen is passionate about showing its customers how important it is to make the connection between what's on their plate and where their food comes from. But, they also want patrons to thoroughly enjoy the sensuous flavors that quality cuisine offers.
If you're looking for New York City Restaurants that prepare dishes in line with the farm-to-table concept, dine at ABC Kitchen. ABC Kitchen serves award-winning fare prepared by Michelin-star Chef Jean-Georges Vongerichten. This Flatiron NYC Restaurant invites you to experience food made from ingredients that are free of pesticides, synthetic fertilizers, insecticides, antibiotics, hormones, and GMO's.
At ABC Kitchen, sit back and indulge on a meal sourced from regional farmers and from fair-trade cooperatives – providers who celebrate community and the future of the slow-food movement. ABC Kitchen promotes an atmosphere for NYC Dining that is environmentally conscious while still remaining stylish - which is very important in top Restaurants in NY.
For an NYC Hotel that's close to ABC Kitchen - and near all of the top New York City Restaurants  - choose a Central Park Hotel. Central Park Hotels are also near popular Things to do in NYC – such as visiting gorgeous Central Park and exploring the many top NYC Attractions.
NYC
Visitor's Guide
Learn about all there is to do, see and experience in the world's greatest city!