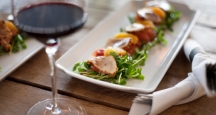 15 East | Restaurant in NYC
15 East is a Restaurant in NYC that serves Japanese cuisine. Located in Union Square, this is a popular choice for fine NYC Dining.
Address:
15 East 15th Street New York, NY 10003
Cuisine: Japanese
Neighborhood: Union Square
Price: $$$
Reservations: Taken
Hours:            
Monday through Friday – 12 p.m. to 1:30 p.m. and 6 p.m. to 10:30 p.m.
Saturday – 12 p.m. to 1:30 p.m. and 6 p.m. to 11 p.m.
Sunday - closed
About 15 East:
Looking for a top Restaurant in NYC for Japanese food? Glam Media called 15 East one of the Foodie Top 100 Restaurants and GQ Magazine says that 15 East is a Top 10 Restaurant in NYC.
A go-to place for Sushi in NYC, 15 East offers many options for those wanting a fabulous NYC Dining experience – from a la carte dishes to expensive tasting menus. Whether you want to enjoy Dining in NYC for lunch or for dinner, you'll surely fine something to your liking at 15 East, a popular eatery that sits moments from a Central Park Hotel.
15 East showcases a tasting menu filled with seasonal ingredients from the land, ocean, and mountain. Meals are inspired by the Japanese "Kaiseki" format for dining, which provides for an outstanding selection of little bites. A 6-course dinner at 15 East starts at $140 per person.
Sit down to eat at 15 East and you'll enjoy exotic flavors from the kitchen and from the sushi bar. An experienced wait staff explains all of the day's choices in detail, and then chefs go on to carefully prepare each dish using local produce gathered from the Union Square Green Market, which is just moments from a Central Park Hotel.
At 15 East, explore new ingredient combinations that are pulled together from traditional Japanese cooking techniques. Dine on plates made from delightful selections of fruits and vegetables - as they are in season. Some of the top foods that 15 East chefs like to cook with are Kogomi (Fiddler Fern), Cherry Blossom Leaves, Wakame seaweed, Winter Melon, Umibudo (sea grape), Matsutake Mushroom, Ginko Nuts, and Tokyo Scallion.
NYC
Visitor's Guide
Learn about all there is to do, see and experience in the world's greatest city!