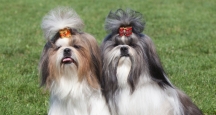 NYC Events | Westminster Dog Show
The Westminster Dog Show is an Event in NY that gives top dogs a chance to strut their stuff as they vie to be named Best in Show.
Date:
February 13, 2016
to
February 17, 2016
Address:
Madison Square Garden | 4 Pennsylvania Plaza New York, NY 10001
For 140 years, this NYC Event has been a showcase for the world's most impressive dogs.
About Westminster Dog Show:
It's not easy to earn the right to compete in the Westminster Dog Show. This Event in New York, which first took place in 1877, has very strict standards about what it takes to be worthy of a spot in the show ring. The dogs that do compete are flawless examples of their breed, but only one can be named Best in Show.
This NYC Event is so well known that it has been nicknamed America's Dog Show. Thousands of visitors will head to New York so they can watch 2,800 dogs strut their stuff in an attempt to show that they have what it takes to be named Best in Breed and, paws crossed, Best in Show.
Westminster Dog Show, which was named for the Hotel where those who founded the show met, is held at two venues: Madison Square Garden and Piers 92/94. Seven categories of dogs will compete. The categories are Sporting, Hound, Working, Terrier, Toy, Non-Sporting, and Herding. A dog must already be a champion before showing at Westminster, so every dog is a wonderful example.  
Some dogs know that their talent lies in being more than just a pretty face, so this Event in NY also includes agility competition. Young people who are interested in the world of dog shows can get their feet wet in the Junior Showmanship Trials. Another brand new event has been added this year: the Masters Obedience Championship.
Tickets for the Westminster Dog Show can be purchased online. All access tickets are available, but you can also purchase tickets for a particular day or for a specific competition at the NYC Event. Tickets can also be purchased at the box office at Madison Square Garden. 
NYC
Visitor's Guide
Learn about all there is to do, see and experience in the world's greatest city!