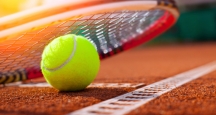 US Open | NY Events
The US Open is an NY Event that brings the top tennis players from around the globe to New York City.
Date:
August 29, 2016
to
September 11, 2016
Address:
USTA Billie Jean National Tennis Center
The US Open is one of the most prestigious events in the world of tennis. This Event in New York City draws some of the top tennis players from around the globe.
About the US Open:
When it comes to the world's top tennis players, there are some matches that they all want to compete in, and one of those is the US Open – an NY Event. Both players and fans come from around the world to enjoy nearly two weeks of matches in several categories.
The US Open is the final competition in the Grand Slam of tennis. The other Events that are part of the Grand Slam are equally prestigious: the Australian Open, the French Open, and Wimbledon. Only the best of the best compete in these matches, so watching them is a treat for any tennis fan.
Five tournaments make up the main portion of this Event in New York City: men's singles, women's singles, men's doubles, women's doubles, and mixed doubles. The US Open does include other competitions including juniors, seniors, and wheelchair tournaments.
Tennis fans that are coming from out of town for this NY Event should consider booking their NY Hotel rooms well in advance as many top NY Hotels will sell out due to this and other summer Events in New York City. Tickets to the US Open can be reserved online and, like your NY Accommodations, you should reserve your tickets well in advance. 
The Full Series ticket provides access to every single match during the US Open, and it is by far the best option if you want to attend as much of the US Open as possible. If you only want to see certain matches then you can purchase single-match tickets. If you do choose the Full Series ticket then you'll enjoy perks such as discounted club restaurant passes, and more.
Attending the US Open is a dream come true for serious tennis fans, so make plans now to attend this annual NY Event. While you're here, be sure to set aside some to see the top NYC Attractions and eat at some of the top NYC Restaurants. 
NYC
Visitor's Guide
Learn about all there is to do, see and experience in the world's greatest city!