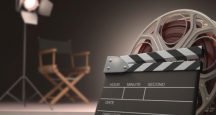 Events in NYC | Tribeca Film Festival
Since 2002, this Event in NYC has given filmmakers an avenue through which to show their films to the public and to industry insiders.
Date:
April 13, 2016
to
April 24, 2016
The Tribeca Film Festival is a very well-known Event in NYC, and it attracts film enthusiasts from around the world.
About the Tribeca Film Festival:
It's not the oldest film festival in the country – in fact it's rather new on the scene. Still despite being launched a mere 14 years ago, attending the Tribeca Film Festival is a top NYC Thing to Do for both filmmakers and cinephiles.
This Event in NYC, which draws top celebrities, didn't exactly have a slow start. The inaugural Event drew an impressive 150,000 people. Two years later, the Tribeca Film Festival was bringing 300,000 people to New York City, and the numbers continued to grow over the next several years.
Categories featured at this festival include feature films, documentaries, and shorts. Awards will be given in each category during the Event in NYC. Attending the award ceremonies is a highlight of the Tribeca Film Festival. Another is the chance to hear some of the speakers.
For the 2016 Event, speakers include Tina Fey, and the founder of Virgin Enterprises, Richard Branson. Several topics will be covered by these and the other speakers at this year's Tribeca Film Festival. Note that tickets to hear the speakers, attend the award ceremonies, and attend other special festival events are not included with general admission tickets.
Tickets for this NYC Thing to Do can be purchased online. Tickets for individual screenings are available or you can purchase a package that allows entry to several or to all of the screenings. Some of the most popular ticket packages will sell out in advance, so reserve yours as soon as possible for the best selection.
If you're planning a spring visit to the City then consider attending this very popular NYC Thing to Do. 
NYC
Visitor's Guide
Learn about all there is to do, see and experience in the world's greatest city!