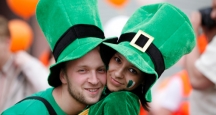 NYC Event | St. Patrick's Day Parade
Attending the St. Patrick's Day Parade is a popular NY Thing to Do. Add this NYC Event to your itinerary during a March visit to the City!
Don your best green and hit the streets to attend the St. Patrick's Day Parade! This hugely popular NYC Event draws massive crowds and is a City tradition dating back more than 250 years.
About the St. Patrick's Day Parade:
If you'll be in the City for St. Patrick's Day then don't miss the chance to attend the country's 2nd oldest St. Patrick's Day Parade! While Boston can brag about holding the first such parade, New York City was just a few years behind, and this parade has been a top NYC Event since 1762.
One of the traditions surrounding this NYC Event is having the sitting Archbishop from St. Patrick's Cathedral review the parade. He sits on the cathedral steps and watches as the marching bands, Irish society groups, and bagpipers make their way down the route. This isn't like other parades. To the organizers of the St. Patrick's Day Parade, tradition is everything. That is why no floats are admitted. Instead, this parade is a nod to the past.
That fact doesn't stop thousands of people from lining the streets, and this Event is a top NY Thing to Do for St. Patrick's Day. If you're planning to attend this NYC Event then there are a few things to keep in mind.
The parade starts at 11 a.m., but you will want to stake out a spot early in order to get the best views.
If you can't walk to the St. Patrick's Day parade route from you hotel, use public transportation. While some parking is available, it's not worth the hassle.
Some of the best places to watch (and to avoid the largest crowds) are north of 66th Street and 5th Avenue.
Several Restaurants and Bars are located along the route, and they love to celebrate with those who are enjoying this NY Thing to Do.
Bathrooms are available, such as those at Bryant Park which is located a couple of blocks from the start of the route.
Bring snacks, but remember that alcohol is strictly prohibited, and those caught drinking will be ticketed and could be arrested.
Make plans to enjoy this iconic NY Thing to Do during a St. Patrick's Day stay in New York City. 
NYC
Visitor's Guide
Learn about all there is to do, see and experience in the world's greatest city!