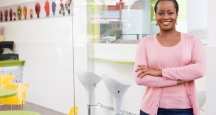 Small Business Expo | New York Event
The Small Business Expo is a popular NYC Event.
Address:
Jacob K. Javits Convention Center | 655 W 34th St, New York, NY 10001
Small business owners gather at the Javits Center for this New York Event.
About the Small Business Expo:
Anyone who runs a small business knows that sometimes daily tasks like sales, payroll, and inventory can take away time that could be spent finding ways to improve and grow the business. When trying to keep all the balls in the air, smart business owners will take advice anywhere they can get it – such as at the Small Business Expo.
Yes, it's difficult to take a day away from the business to attend such an event, but the valuable information that is available at the Small Business Expo makes attendance a valuable investment. Some business owners consider this a can't-miss Event.
The exhibit hall at the NYC Event is filled with vendors showing a variety of products that can help the streamline the tasks associated with running your business. You'll learn about software, training, payroll and accounting services, and more. Attendees will learn about products and services that help free up the time it takes to complete the more mundane tasks of running a business.
A number of useful seminars also take place at the Small Business Expo that cover a variety of important topics. Other highlights include a VIP breakfast, workshops, theatre presentations, and the chance to meet other small business owners through networking events. More than 10,000 people will attend this New York Event, so it's a great place to meet other business owners. This business-to-business NYC Event is a chance to learn about lots of valuable business tools in one place.
This is one of many trade-only NYC Events that take place each year and, if you're a small business owner, this is one you don't want miss. Make plans to attend the Small Business Expo and get tools and tips to help you spend less time running the business side of your business and more time nurturing your vision for the future. 
NYC
Visitor's Guide
Learn about all there is to do, see and experience in the world's greatest city!