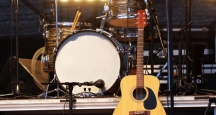 The Rolling Stones Exhibit | NYC Event
The Rolling Stones Exhibit has been a huge success since it debuted in London. In NYC? Don't miss this NYC Event.
Date:
November 12, 2016
to
March 12, 2017
Address:
Industria | 775 Washington St. New York, NY 10014
True fans of Rock n Roll will add a visit to this NYC Event to their bucket lists. The Rolling Stones Exhibit is not to be missed!
About The Rolling Stones Exhibit:
A rock band, from its moment of conception, is living on borrowed time. It's a union of differing artistic ideas, views on life and egos. Whether they are teenagers or old men, the entity known as the rock band, by the numbers, is preordained to fall apart. The same odds are afforded to all. That is one of the several reasons, after 54 years of continuous recording and touring, Exhibitionism: The Rolling Stones Exhibit, showcases The Rolling Stones as an example of pure fate. Beloved by generations of fans, The Stones are among a few bands that can be referred to as one of the best rock bands in history.
Having left a permanent mark on music history, their influence can be seen and heard in all that came after them. Not only did they influence sound, but the visual image of what a rock band is as well. They practically invented Glam. As you will see in the collection of Mick's stage gear at this Event in New York City, you never knew what Mick was going to be wearing on any given day. They continued to evolve and reinvented their look often. However, most importantly, they always released great music and could be counted on for great live shows, many of which can be considered important - and some historic.
So, naturally, The Rolling Stones are being given exhibition spaces around the world to commemorate their 54 years as, against all odds, not only a rock band, but, according to many, the rock band.Exhibitionism: The Rolling Stones Exhibit is an important collection of instruments, clothing, photos, art, touring gear, rare footage and personal items. This NYC Event is part exhibit, part art installation and part interactive history lesson.
Housed in 9 different galleries, the number of artifacts that survived the sixties and seventies is remarkable considering the original owners couldn't tell you where many of these heirlooms were, how they got there or who had them. At this NYC Event, devoted Stones fanatics will recognize some of Mick's costumes from concerts and TV appearances, Keith's guitars or Bill's basses. Other relics, like Charlie's first drum kit, are being seen for the first time.
One of the best parts of The Rolling Stones Exhibit is an exact replica of the interior of the flat Mick and Keith shared in London when they were just getting the band together. According to Mick and Keith, not only are the minutiae of the detail frighteningly exact, the artists even replicated the smell of the flat as well. If you're a Stones fan, do not miss this New York City Event featuring one of the most important collections of the vestiges of Rock and Roll history in the world.
NYC
Visitor's Guide
Learn about all there is to do, see and experience in the world's greatest city!