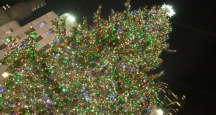 Rock Center Tree Lighting | Event in NYC
The Rock Center Tree Lighting is an Event in NYC that will help you get into the holiday spirit.
Date:
November 29, 2016
to
January 5, 2017
The Rock Center Tree Lighting is an NY Activity that is a perfect way to kick off the holiday season in New York City.
About the Rock Center Tree Lighting:
For more than 80 years, crowds have gathered at Rockefeller Center to watch the lighting of a huge Christmas tree. This Event in NYC is fun and family-friendly, and it's a great excuse to plan a winter visit to New York City.
The selection of the tree is serious business. The honor of making the choice belongs to the head gardener at Rockefeller Center. Some gardeners began their search by flying over tree farms in a helicopter. When a suitable tree is found, arrangements are made to bring it New York City. The tree is typically a Norway Spruce and soars between 69 and 100 feet tall.
The decorations are equally as impressive as the tree. Workers toil to adorn the tree with more than 45,000 lights and top it all off with a giant star that weighs 550 pounds. The result is quite stunning, and a crowd of thousands will gather on November 29th to watch as this year's tree is illuminated for the first time.
This Event in NYC features live performances by popular singers and other celebrity appearances. There is no charge for this NY Activity, but you can enhance the experience by purchasing VIP tickets. These tickets, which will be available on the Event's website as the date draws nearer, provide a premium spot to watch the festivities and access to an exclusive cocktail party.
New York City is beautiful in the winter. Consider a visit to finish up your holiday Shopping and attend exciting holiday Events in NYC like the Rockefeller Center Tree Lighting. Other holiday NY Activities, such as attending performances of The Nutcracker or the Radio City Music Hall Christmas Spectacular, are also wonderful ways to get into the holiday spirit during your winter visit to New York City. 
NYC
Visitor's Guide
Learn about all there is to do, see and experience in the world's greatest city!