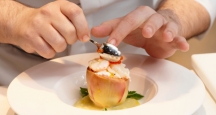 NYC Restaurant Week | NY Event
NYC Restaurant Week is an NY Event that shines a spotlight on fabulous Dining in NYC.
Date:
July 25, 2016
to
August 19, 2016
Address:
Various locations
NYC Restaurant Week is a NY Event that lets you try some of the City's best Restaurants at a great price.
About NYC Restaurant Week:
No matter when you visit the City, the Dining in NYC will exceed your expectations. When you are lucky enough to visit during NYC Restaurant Week, however, you can enjoy fabulous meals at a special price. During this NY Event, hundreds of Restaurants create special lunch and dinner menus and offer very special pricing.
Happily, NYC Restaurant Week lasts for nearly 3 weeks, so you'll have plenty of time to try several of your favorite spots of Dining in NYC or to try some place new. Whether you want a fine dining experience or you just want to enjoy a quick, casual bite, you'll surely be able to find a participating Restaurant.
The full list of participating Restaurants has not been released, but the list will be available on the NYC Restaurant Week website as the starting date for the NY Event draws closer. Printed NYC Restaurant Guides will also be available at Hotels in New York throughout the City.
The special NYC Restaurant Week menus include at least 3 appetizer choices, 3 entrée options, and 2 desserts. Some Restaurants might also offer drink specials and other features that make visiting during this NY Event a great value.
Even if a reservation is not required, it is highly recommended that you make one. During NYC Restaurant Week, popular spots for Dining in NYC fill up, so a reservation ensures that you'll get to enjoy a meal at your top choices. Note that many of the Restaurants will not offer special menus on the weekends, so be sure to learn the details of your selected Restaurants in advance of your visit.
No visit to the City is complete without enjoying fabulous Dining in NYC, and NYC Restaurant Week is a perfect way to explore the City's dining scene!
NYC
Visitor's Guide
Learn about all there is to do, see and experience in the world's greatest city!