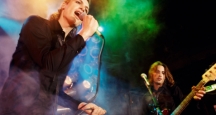 Events in New York City | NYC Popfest
NYC Popfest is an NY Event that gives music lovers a chance to see several bands perform at venues around the City.
Date:
May 19, 2016
to
May 22, 2016
Address:
Various locations
Love pop music? Then this is an NY Event that you won't want to miss. Book your Hotel room now and make plans to attend the 2016 NYC Popfest!
About NYC Popfest:
Indie pop bands from around the world will come to the City for four days of music and fun. The concerts that take place during this Event in New York City will be held at various venues. Venues at the 2015 NYC Popfest included The Knitting Factory, Baby's All Right, and Littlefield.
This NY Event is a great chance to see some of the world's best pop bands without having to travel to do it. Instead, music lovers can just set aside a few days and be able to see several bands. Of course, New York is a leader in the music scene, so while you're here, consider paying a visit to some of the top music venues that are not part of NYC Popfest.
While you're here for this Event in New York City, pay a visit to jazz and blues clubs, or make a special trip to see the former home (now a museum) of Louis Armstrong. There is much for a music lover to do during a visit to New York City.
Tickets will soon be available online for this NY Event. Tickets will also be available at the door when available. The best way to enjoy NYC Popfest is to purchase a 4-day festival pass. This pass provides entrance to all concerts and after parties during the entire event. Tickets for individual shows will be for sale as well. Some shows will only have tickets at the door. Others may offer advance tickets online.
NYC Popfest is a reminder of why New York City leads the way in introducing the best music from around the world to music lovers. Reserve your festival pass, and get ready for four days of amazing music, parties, and more. 
NYC
Visitor's Guide
Learn about all there is to do, see and experience in the world's greatest city!