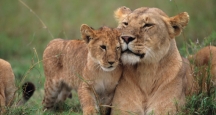 New York Wild Film Festival | Events in NYC
The New York Wild Film Festival is a New York City Event that welcomes explorers from around the world.
Date:
February 23, 2017
to
February 26, 2017
Address:
46 East 70th Street New York, NY 10021
This New York City Event draws those who love adventure!
About New York Wild Film Festival:
Just as the Victorian Era came to a close with the death of the Queen, The Explorers Club was being founded in New York City. Born of an age that will be forever colored and shaded with the images of dauntless characters in khakis and pith helmets like Henry Morton Stanley, hacking his way through the jungle, Ernest Shackleton racing to the South Pole, or TE Lawrence getting mixed up in foreign adventures. These were the celebrities of the day.
In 1904, an assembly of these intrepid figures, summoned by Henry Collins Walsh, an accomplished trailblazer in his own right, convened and chartered The Explorers Club. The Club's mandate was to "unite explorers in the bonds of good fellowship and to promote the work of exploration by every means". Today, that spirit is still the core of the Club. The decree has expanded to "promote the scientific exploration" of our world, from the deepest reaches of space, to the bottom of the oceans, by scientists from all disciplines from Anthropology to Zoology. Members of The Explorers Club, past and present include famous first timers like Charles Lindbergh, Sir Edmund Hillary and Tenzig Norgay, Jacques Cousteau, Neil Armstrong and James Cameron. As one can guess from this list of names, it is an exclusive club.
Every year the club fulfills its duty to share what it has learned with the world. One way it does this is by staging the New York Wild Film Festival. The first of its kind in NYC, this unique film festival's entries reveal the broad range of the work being done by members of this quiet and, in these days of celebrating mediocrity, unsung group of individuals.
This New York City Event transports the world of wildlife and environmental conservation, and the dispatches of today's explorers and adventurers from the wildest and most remote places on the planet, right to the middle of New York City. Be prepared to learn things about the world you won't see on any news networks.
This year more than 200 submissions for the festival came in from 25 countries. This Event in NYC employs some truly majestic cinematography to tell stories about charting forests where no man has been, the plights of the world's dwindling wildlife, or new archaeological discoveries. Don't miss the New York Wild Film Festival that showcases the wonderful and important work being done by these leaders in exploration and conservation.
NYC
Visitor's Guide
Learn about all there is to do, see and experience in the world's greatest city!