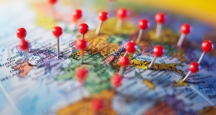 New York Times Travel Show | Events in NYC
The New York Times Travel Show draws travel enthusiasts from around the world. Come and see what's new in the travel sphere at this New York City Event.
Date:
January 27, 2017
to
January 29, 2017
Address:
Javits Center | 655 W. 34th St. New York, NY 10001
The New York Times Travel Show is a can't-miss Event in NYC for both travel professionals and travel enthusiasts.
About The New York Times Travel Show:
With the advent of the internet and having all the information about everything in the world in your pocket, one may wonder what the pay-off is to going to an event like the New York Times Travel Show. Well, on top of attending lectures with top travel experts, there are representatives from every facet of the travel industry and hundreds of worldwide destinations.
That's just one reason to visit the Javits Center at the end of January and catch the New York Times Travel Show. On top of booths manned by the aforementioned representatives from more or less everywhere in the world, the over 500 exhibits also consist of individuals from the cruise lines, both ocean and river cruises, travel gear, and much more.
Travel agencies at this New York City Event will have reps who specialize in different areas, like the locals at the booths that represent each country. They also put together entire travel packages that include airfare, hotels, tours and ground travel. Speaking of the rails, train travel is also very popular, particularly train journeys on historic trains like the Orient Express or the Trans-Siberian Railway, both of which are on many people's bucket lists. You can learn about these and other exciting ways to see the world when you attend this event.
For travel professionals, the Event in NYC provides the chance to attend a number of educational seminars on a variety of topics. Some of the topics that will be covered at this year's event include Focus on Cuba, Focus on Small Ship Cruising, Focus on All-Inclusive Resorts, Focus on Latin America, Focus on Family Travel, and much more.
Other travel professionals take the opportunity to exhibit at this Event in NYC. More than 29,000 consumers attend The New York Times Travel Show allowing exhibitors to connect with people who are actively looking for their services. Many exhibitors come back year after year, showing that they find value in this marketing opportunity.
If you're attending with your kids, be sure to stop by the Family Travel Pavilion where hands-on exhibits will get the kids excited about travel. See live performances on cultural stages, and enter for chances to win prizes or take advantage of special deals that are only available during the show.
Whether you're a travel pro or you're planning your dream trip, the New York Times Travel Show is a great way to spend a day learning about new industry trends or about exciting vacation spots around the world. 
NYC
Visitor's Guide
Learn about all there is to do, see and experience in the world's greatest city!