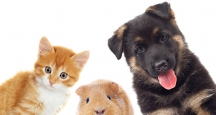 NYC Events | New York Pet Expo
Attending the New York Pet Expo is a fun NY Thing to Do – and you can bring your pet along!
Date:
May 14, 2016
to
May 15, 2016
Address:
Brooklyn Expo Center | 72 Noble Street Brooklyn, NY 11222
Attending the New York Pet Expo is a great answer for pet lovers searching for NY Things to Do.
About the New York Pet Expo:
The New York Pet Expo is a fun NYC Event for those who love all things pets. If you're staying at one of the many pet-friendly NYC Hotels, you won't have to leave your four-legged family member behind, because pets are welcome this Event!
As you stroll the exhibit hall, you'll see hundreds of vendors offering products for your pet. Learn about new toys, treats, and much more. Free nail trims will be offered as well as several giveaways. Attendees can also enjoy book signings, do a bit of shopping, and learn about ways to better care for (and spoil) pets.
For many, highlights of this 4th annual New York Pet Expo will be all the fun Activities for their pets. Agility demonstrations and play stations are popular features of this NYC Event. One of the most popular Attractions at this NY Thing to Do is the pet costume contest. Dress your pet up for a chance to take home the top prize. Even if you don't choose to dress up your pet, it's still fun to watch the parade of costumed creatures.
If your pet needs vaccines, you can take care of that right at the Expo as well. This is a can't-miss NYC Event for anyone with pets. Looking for a new best friend? You can do that here as well! Vaccines will be available onsite. If you do plan to get your pet vaccinated at the Expo, then it is a good idea to bring along their shot record.
Tickets can be purchased at the door, so there is no need to reserve tickets in advance. For pets and pet lovers alike, this NYC Event is a perfect choice when you're looking for NY Things to Do.
NYC
Visitor's Guide
Learn about all there is to do, see and experience in the world's greatest city!