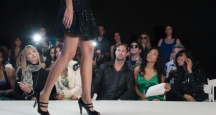 NYC Events | New York Fashion Week
Events in NY like New York Fashion Week make the City one of the fashion capitals of the world.
Date:
February 11, 2016
to
February 19, 2016
Since 1943, New York Fashion Week has been introducing the world to the latest trends and helping to set the fashion compass for the entire world.
About Mercedes Benz New York Fashion Week:
The biggest names in the world of fashion will gather in the City for this NYC Event. Models, designers, fashion editors, and fashion-minded celebrities will head to New York to attend fashion shows, parties, dinners, and other special Events in NY.
This Event in NY is the first of the Big 4 of fashion weeks around the world. New York Fashion Week is followed by Events in London, Milan, and Paris. What the designers show during this NYC Event will be the public's first look at the newest trends. While these trends may take a while to make their way to your local Macy's, it is still exciting to see what is new in the world of fashion.
Designers will show off their newest collections to a carefully selected audience. In most cases, tickets to the fashion shows are not available for sale to the public. Instead, the majority of the shows are by invitation only, and those invitations go to fashion editors and celebrities. A few shows do offers tickets for sale to the public. Many of the shows during this NYC Event are streamed live, so you can watch the action as it happens even when tickets are not available.  
In addition to the dozens of shows, other special Events also mark New York Fashion Week. These include the chance to meet some of the designers, attend special dinners, and more. Tickets to some of these Events will be available for sale to the public.
If you love fashion then you'll surely want to do some Shopping during your stay. Whether you're coming for New York Fashion Week or not, spend a day exploring some of the City's most popular Shopping venues. View our New York Shopping Guide for information about some of the best places in the City to enjoy some retail therapy. 
NYC
Visitor's Guide
Learn about all there is to do, see and experience in the world's greatest city!