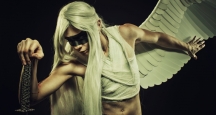 New York Comic Con | NYC Events
New York Comic Con is a popular NYC Event that draws 170,000 fans to New York City.
Date:
October 6, 2016
to
October 9, 2016
Address:
Jacob K. Javits Convention Center | 655 West 34th Street New York City, NY 10001
Love all thing sci-fi and comics? Then make plans now to attend New York Comic Con – a hugely popular NYC Event.
About New York Comic Con:
The streets of New York City are always fun and lively, but for a few days in October, you just might see a few superheroes roaming down 34th Street. The superheroes and other various comic book and sci-fi characters are probably attending New York Comic Con. This Event in NY is a huge gathering, and attendees come from around the country to attend.
New York Comic Con attracts massive crowds and, by some estimates, the NYC Event has nudged out San Diego Comic Con as the largest in the country. The 2015 Event drew 170,000 fans, and organizers say the 2016 crowd will be even bigger. Because of the popularity of this Event in NY, those who want to attend should reserve their tickets as soon as possible.
As is the case at most comic cons throughout the country, the celebrity guests are always a highlight of the Event. This year's New York Comic Con boasts a long list of special guests including Frank Cho and Carrie Fisher. For many, the most exciting part of attending this year's Event is the chance to meet comic book megastar Stan Lee. Some of the guests will offer autographs or the chance to take photos. A full list of special guests will be available on the New York Comic Con website.
In addition to the special guests, there are many other features of this NYC Event that make it worth attending. Interesting panel discussions, costume contests, shopping for hard-to-find collectibles, and the chance to meet thousands of other fans are a few of the other popular features of New York Comic Con.
If you are a fan of sci-fi and comics then add this Event in NY to your fall plans!
NYC
Visitor's Guide
Learn about all there is to do, see and experience in the world's greatest city!