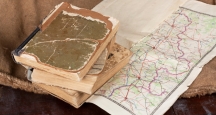 New York Antiquarian Book Fair | NYC Events
The New York Antiquarian Book Fair draws visitors from around the world. This NYC Event welcomes guests who come for this and other Events in NYC.
Date:
March 9, 2017
to
March 12, 2017
Address:
643 Park Ave. New York, NY 10065
Add this popular NYC Event to your list of things to do during a March visit to the city!
About New York Antiquarian Book Fair:
Whether visitors to this NYC Event are just book lovers or those who seek the rare treasure that is the antique book, The New York Antiquarian Book Fair can be like discovering King Solomon's Mines. You don't know what treasures you might find at this Event, one of the biggest antiquarian book fairs in the world.
Since 1959, the Antiquarian Booksellers' Association of America (ABAA) has convened a large collection of the world's experts in old books and the numerous specialties related to the topic. Held on the Upper East Side at the old Seventh Regiment Armory, locally known as the Park Avenue Armory, one could hardly imagine a better venue for an event like this.
Taking its place on Park Avenue since 1880, the building is a historic structure in its own right and is a classic setting for an exhibition of antique books. Along with knowledgeable dealers of old books available to those in attendance, The New York Antiquarian Book Fair gives patrons face time with experts in rare books, antique maps, charts and globes, manuscripts and photographs, and the list goes on.
There are many fascinating aspects to being in a space the size of the armory filled with books, maps and other curiosities from bygone eras. Peruse a geography book from the early 19th century and you'll see an America that shows the land past Missouri as "this territory" or "that territory". Hold history books in your hand that were held by others before the American Revolution.
That's the spellbinding part of just being there. You can learn things you'd never learn from modern books. The New York Antiquarian Book Fair is also a great place to make connections with dealers who could locate ancient tomes the average person never could.
Take advantage of the large pool of knowledge that's at The New York Antiquarian Book Fair and don't be shy about asking any questions you may have, maybe even prepare a list of questions pertaining to your areas of interest. This is a can't-miss Event in NYC for everyone from the newcomers to the world of antique books and ephemera, to the Oxford trained experts. Make plans to attend this popular event.
Hours:
March 9th (preview evening): 5pm-9pm
March 10th: 12pm-8pm
March 11th: 12pm-7pm
March 12th: 12pm-5pm
Tickets:
Preview Pass: $50
Daily: $25
Students: $10 (at door only)
Run of Show: $40 (at door only)
NYC
Visitor's Guide
Learn about all there is to do, see and experience in the world's greatest city!