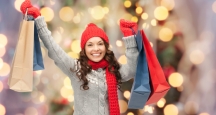 Holiday Markets | Events in NYC
New York City's Holiday Markets draw visitors from the city and around the world. These New York City Events welcome guests who come for this and other Events in NYC.
Date:
November 14, 2016
to
December 24, 2016
Address:
Various locations
Enjoy a popular Events in NYC and get some holiday shopping done with the unique finds at the city's Holiday Markets.
About Holiday Markets:
Visitors to New York City during the holidays could easily fill the majority of their time simply walking around and happening upon many of the New York City Events taking place. Holiday happenings are inescapable no matter where you go in Midtown or Downtown this time of year. During your circuit around the city, make sure you check out one (or all) of the Holiday Markets. Each of these markets are found at notable locations, so as you visit you'll also have a chance to see some of New York City's most famous and historic locales.
One of the Holiday Markets is housed in one of New York City's most famous buildings: Grand Central Station. Dubbed the Grand Central Holiday Fair, this one of NYC's three Holiday Markets is the only one that is indoors. So if it's really cold when you're out and about, this is the one to head for. One of the city's most visited buildings - even when there is not an event taking place - Grand Central, built by the notable Vanderbilt family, in its current form, has stood since 1913.
This New York City Event is being held inside Grand Central in Vanderbilt Hall with dozens of vendors selling all manner of holiday-related items and gifts. Pick up some ornaments for the tree at Craftspring and the Glass Haus. Decorations for your home that will remind you of the holidays in NYC can be found at Hardwood Creations and RAW Design. Other gifts that can be found here are men's and women's fashions, handbags and even gifts for children.
You'd be remiss if you were in the city for the holidays and didn't take a walk or, perhaps, a carriage ride through Central Park. While you're in the vicinity, make your way down to the south west corner of Central Park to Columbus Circle Holiday Market. This one is an outdoor market so make sure the family dresses for the weather. Layering is optimal since in New York City you'll probably be in and out of doors a lot.
Pick up the latest in men's fashion from Windhorse. Leckerlee makes authentic German gingerbread, perfect for the holiday season. Raaka Chocolate creates organic chocolate bars right in Brooklyn. They are painstakingly made in small numbers so don't hesitate to snap some up if there are some available. Also sold at this Event in NYC are handmade wooden puzzles, jewelry and much more.
Get off the subway at Union Square Station and do some Christmas shopping at the Union Square Holiday Market. This is another outdoor marketplace where you can shop for holiday related wares. Staffordshire Associated Potters makes top tier China in England, the best China outside China. Grab your dog some fashionable apparel for Christmas from Yoyo Dog, or indulge in prints of antique maps to adorn your home. These markets offer so many things that you can't find in brick and mortar shops. Don't miss the opportunity to stand out on Christmas with one-of-a-kind gifts for friends and family. Get down to these Holiday Markets before they're gone.
NYC
Visitor's Guide
Learn about all there is to do, see and experience in the world's greatest city!