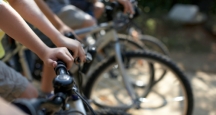 New York City Events | Five Boro Bike Tour
This New York City Event gives participants a chance to bike through all five boroughs with no vehicle traffic.
Top NYC Things to Do in the spring involve spending time outdoors, and this New York City Event offers a unique way to do that.
About the Five Boro Bike Tour:
In some places, biking around New York City can be frustrating as you compete for space on the road with cars. But for one day in May, during the Five Boro Bike Tour, cyclers have the roads all to themselves as they bike through all five boroughs.
During the Five Boro Bike Tour, streets are closed to vehicle traffic all along the 40-mile route. More than 32,000 bikers from all over the world will take advantage of the chance to enjoy a fun ride through the streets of New York City.
The downside of the New York City Event being so popular is that space fills up quickly. In fact, standard registration typically sells out soon after it opens. Standard registration for the 2016 Event is sold out, but you can still participate by choosing VIP registration. Space is limited, so don't wait.
VIP registration for the Five Boro Bike Tour is $325, and it includes lots of extras. In addition to a spot in the bike ride, VIP participants will have access to the VIP lounge, enjoy breakfast and a gourmet lunch, and will receive an official riders' jersey and other swag. Best of all, VIP riders are guaranteed a spot in the first start wave.
The purpose of the Five Boro Bike Tour, which is presented by REI, is to raise money that is used to fund bike education programs. The money raised during the 2015 New York City Event was able to help teach bicycle skills to 17,000 people.
If you're looking for NYC Things to Do then consider taking part in the largest charitable bike ride in the country. Register today to reserve your spot in the Five Boro Bike Tour. 
NYC
Visitor's Guide
Learn about all there is to do, see and experience in the world's greatest city!