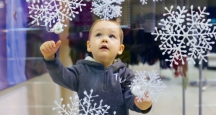 Bryant Park Winter Village | NYC Events
The Bryant Park Winter Village is an NYC Event that draws visitors from the city and around the world.
Date:
October 29, 2016
to
March 5, 2017
If you're looking for Holiday Events in New York City then consider stopping by the Bryant Park Winter Village.
About Bryant Park Winter Village:
Even though its official opening is in October, Bryant Park Winter Village is a hallmark of the holidays in the Big Apple. This green space is the iconic New York Public Library's backyard, placed in the center of Midtown and is close to nearly everything you'll want to take in during your visit to the city.
This Event in New York City is designed in the spirit of the winter marketplaces of Europe with a 17,000 square-foot ice skating rink as its centerpiece. You'll find more than 125 merchant stalls that include wares from artisans that come from all over the world and local food vendors that cater to all ages and appetites.The shopping alone at this NYC Event will keep everyone busy for days and with the diverse mix of goods there is literally something for everyone in the family.
From abroad, Little Village Crafts offers jewelry from exotic locales including Tibet, Peru, and India. All Across Africa imports decorative items for the home from the Dark Continent. For animal enthusiasts, Pink Cloud Gallery has an assortment of animal-themed artwork including clocks, coasters, business card holders and watches. There are stalls devoted to men's fashion, beauty products, toys for the kids, and the list goes on. If you're a shopper, this is an NYC Event that you don't want to miss.
Last, but not least, the heart of Bryant Park Winter Village is, of course, the skating rink. Visitors to the city and New Yorkers alike all converge on the Park to take a turn around the ice. Admission is free and on top of open skating there are skating performances featuring world-class ice skaters. Bring your own skates oryou can rent them at the rink. They even offer skating lessons so new skaters aren't sidelined. On site skate sharpening, skate aids for the little ones and lockers and bag check is available so you don't have to worry about your stuff while you're showing off on the ice. If you're in the city for the holidays don't miss this Event in New York City.
Tip: The weather in New York City during the holiday can be chilly, so you'll want to make sure everyone is dressed properly as there is much to see and do at this NYC Event. Layering your clothing will ensure everyone stays warm and you can remove layers as needed. Not to mention that endless other attractions and sights are all within walking distance so you may not find yourself back at your hotel for hours, and you will undoubtedly be going inside and outside a lot, which is why layering is the way to go.
NYC
Visitor's Guide
Learn about all there is to do, see and experience in the world's greatest city!