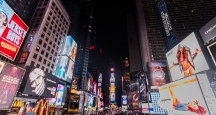 Broadway Discount Week | New York City Events
Broadway Discount Week is an New York City Event that offers lower-priced tickets to hit Broadway shows.
Date:
January 17, 2017
to
February 5, 2017
Theatre lovers anticipate this year's Broadway Discount Week and the chance to score discounted tickets to their favorite shows.
About Broadway Discount Week:
Broadway is one of the places that draws theatre enthusiasts from around the world.  Shows written by legends like Andrew Lloyd Webber, Tim Rice, Neil Simon, T.S. Eliot, are performed by famous stars of stage and screen like Cate Blanchett, Matthew Broderick and Bradley Cooper and many others. Broadway Discount Week gives theatregoers the chance to enjoy rare discounts.
Like London's West End, only tier one shows make it to Broadway. Just getting a show to Broadway is a colossal achievement, and the show's run must be in one of around 40 halls regarded as "Broadway houses". Only then can a production even be in the running for a coveted Tony award.
In a city full of struggling actors, to say nothing of the hordes of theater fans that live in New York City and elsewhere, Broadway Discount Week is a great time to get the most sought-after tickets in the city at a 2 for 1 discount. With tickets for some productions exceeding $100, this New York City Event comes at a great time for patrons to see some beloved Broadway staples as well as some great new plays hitting Broadway for the first time.
The list of participating shows includes some of the longest running favorites ever to hit Broadway. Cats is returning to Broadway for the first time in 10 years, just in time for Broadway Discount Week. One of the longest running shows in Broadway history, its return will be very popular and tickets, like near the end of its run in 2006, will be very hard to come by. The Lion King, another of the longest running shows, is a great one for adults and children alike. Parents wanting to expose their young ones to Broadway often start with this one, and the kids (and adults!) love it.
For those who prefer the dramatic side of Broadway over the musicals, there are some great choices like Checkov's The Present starring Cate Blanchett in the lead. The Present is on for a limited run so don't wait on this one. Phantom of the Opera, another Broadway blockbuster is on the list, as well as A Bronx Tale, based on the film by Chaz Palminteri. This first run, adapted for the stage by Chaz and his good friend Robert DeNiro, found a home at the Longacre and is sure to be another hot ticket during Broadway Discount Week.
Theater lovers lucky enough to be in town for this Event in NYC shouldn't wait to reserve ticket because at 2 for 1 the hottest shows are sure to sell out fast!
NYC
Visitor's Guide
Learn about all there is to do, see and experience in the world's greatest city!