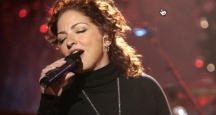 Broadway Shows NY | On Your Feet
Seeing Broadway Shows is a popular NY Thing to Do. On Your Feet, which opens late 2015, is a kid-friendly option sure to delight audiences of all ages.
Address:
Marquis Theatre | 1535 Broadway, New York, NY 10036
About Show Name:
Do you love Latin rhythms and dancing? If so, consider viewing a performance of On Your Feet  - one of NYC's top Broadway Shows. NY has so many great theatrical productions running at any given time, but it's a wonderful experience when you can see a Show on Broadway and celebrate music legends at the same time.
On Your Feet tells the story of superstar musicians The Estefans – two devoted people who made headlines and beautiful music together long before Beyoncé and Jay-Z did. Gloria and Emilio Estefan rose to fame as a couple with a passion for singing - and a love for each other.
Gloria is one of the best-selling singers of all time. Emilio is the brilliant producer behind dozens of top names in music. Together, the pair is a true rags to riches tale. Their story is as close as you may get to someone seeking out and living the American dream.
If you're looking for fun NY Things to Do, consider seeing a few Broadway Shows. NY's production of On Your Feet is sure to be a audience favorite, as it charts the Estefans' relationship and the 2 musician's careers. It features a soundtrack full of Gloria's defining hits like "Rhythm is Gonna Get You" and "Words Get in the Way." During a performance of On Your Feet, listen to old favorites and enjoy some new songs too!
The NYC production of On Your Feet follows a month-long tryout in Chicago. Tony Award-winner Jerry Mitchell (Kinky Boots, La Cage Aux Folles) directs this New York City Broadway Theater production and Sergio Trujillo (Jersey Boys) choreographs.
For one of the most enjoyable NY Things to Do, see On Your Feet – which runs in the heart of the Broadway Theater District near many of the top NY Accommodations. Let the rhythm get you as tap your feet in your seat (or perhaps even in the aisle) and enjoy one of the most fun NY Things to do this month.
Do you need NY Accommodations for your trip to NYC? Choose an NY Hotel near Broadway Theater. In addition to being near top Broadway Shows like On Your Feet, you'll also have a perfect New York City location near the best NYC Restaurants and top NY Things to Do.
NYC
Visitor's Guide
Learn about all there is to do, see and experience in the world's greatest city!