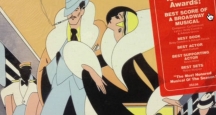 Broadway Shows | On the Twentieth Century
Seeing a Broadway Show is a popular answer to What to do in NYC. On the Twentieth Century is a new show opening in March of 2015.
Address:
American Airlines Theatre | 227 West 42nd Street, New York, NY 10036
About On The Twentieth Century:
Are you looking for great Broadway Shows to attend on your visit to NYC? On the Twentieth Century is a new venture into Broadway Theater that has finally reached NYC audiences, after years of waiting in the production line. This tale of luck and love stars Peter Gallagher and Tony Award-winner Kristin Chenoweth as former lovers who meet by fate – aboard the luxurious Twentieth Century Chicago-to-New York City line.
On the Twentieth Century is a Broadway Show from Roundabout Theatre Company. This production is a revitalized version of a mischievous comedy of the same name - which ran in New York City nearly 36 years ago. The current Broadway Show is directed by Tony Award-winner Scott Ellis and it runs through July 5, 2015.
During a performance of On the Twentieth Century, audience members take a journey with theater producer Oscar Jaffee (Gallagher), who has exactly 1 train ride to convince Broadway starlet Lily Garland (Chenoweth) to take on the lead role in his brand new play. There are 2 problems that exist, however. Jaffee is completely bankrupt and the epic production that he talks about is not even set in stone yet.
Do you want to see an exciting Broadway Show like On the Twentieth Century while you're in New York City? Look for an NYC Hotel in the Broadway Theater District – or a Times Square Hotel – and you'll be in a perfect location from which to enjoy all of the best Broadway Theater performances and so much more.
NYC
Visitor's Guide
Learn about all there is to do, see and experience in the world's greatest city!