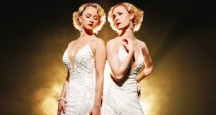 Theater in NYC | Side Show
Side Show opened at St. James Theatre in NYC in October 2014. Consider visiting this Broadway Theatre during your next visit to the City.
Address:
St. James Theatre | 246 West 44th Street, New York, NY 10036
About Side Show:
If you're familiar with Theater in NYC over past 15 years or so, you may remember the original production of Side Show – which ran in 1997 and earned 4 Tony Award nominations. Side Show is a Broadway production that became a cult classic. The new, revitalized Side Show is – once again - a top experience in Theater in NYC, but it offers a few twists and surprises.
Side Show tells the incredible true story of conjoined twins Daisy and Violet Hilton – as they graduate from being carnival attractions to enjoying vaudeville success. The Hilton sisters were born in England and they had a tough life at the hands of their cruel aunt – a woman who exploited them and placed them as stars on a freak show circuit.
Daisy and Violet were finally emancipated and they grew to become glamorous showbiz legends in their own right – against the difficulties presented during an America in the middle of the Depression era. Side Show offers a deep look at these 2 women – a pair that thrilled the country and who are still one of the most famous cases of conjoined twins in the world.
If you're looking Theater in NYC that delivers some meaningful messages about hope and being the creator of one's own life, view a performance of Side Show. This Broadway Show offers a powerful statement about the universal human need to be loved and to have acceptance – but it shows that when we truly accept ourselves we can shine.
Along with the Hilton sisters, you'll meet other unusual members of the Side Show during this performance - such as Reptile Man, the Bearded Lady, and the Half-Man/ Half-Woman. This carnival adventure into Theater in NYC is refreshing and inspiring – and it's one of the most rewarding NYC Things to Do that you'll find near any New York City Hotel.
NYC
Visitor's Guide
Learn about all there is to do, see and experience in the world's greatest city!