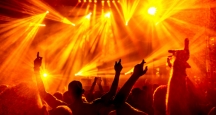 Theater in New York City | Rock of Ages
Rock of Ages opened at Helen Hayes Theatre in New York City in 2009, and it continues to delight audiences. Consider this popular Show during your stay at a Hotel in NYC.
Address:
Helen Hayes Theatre | 240 West 44th Street, New York, NY 10036
About Rock of Ages:
Rock of Ages is an arena-rock love story that is fabulous choice for Theater in New York City. If you're looking for an exciting, award-winning Broadway Show to see on your trip to Manhattan, view a performance of Rock of Ages and enjoy a night filled with 30 electrifying songs – including power ballads from the 80's and radio favorites from bands like Styx, Journey, Foreigner, Twisted Sister, and Bon Jovi.
Rock of Ages is an energetic experience in Theater in New York City. It's a smash hit that transports audiences back in time, into the heady days and nights on the Sunset Strip.
This Broadway Show tells the story of Sherrie – a small-town girl who sees the Strip as a way to start over and to follow her dreams of becoming an actress. Sherrie has her sights set on the stars – that is - until her suitcase is stolen outside of the world-famous Bourbon Rooms. She is saved by an ambitious busboy (and wannabe singer) named Drew and she thinks that she's finally found true love. But, love doesn't often run smoothly – as many people know – so we see Sherry encounter obstacle after obstacle on her way to her ideal life.
Are you trying to choose between the many Hotels in NYC that are available for a trip to New York City? Choose an NYC Hotel near the top Broadway Theaters and you'll have many exciting Things to do in NYC close by. In addition to the most popular Broadway Shows, you can enjoy Shopping in NYC, dining at top NYC Restaurants, and visiting NYC Attractions near Hotels in NYC's Broadway Theater District.
NYC
Visitor's Guide
Learn about all there is to do, see and experience in the world's greatest city!