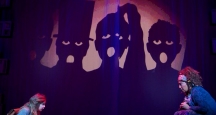 Broadway Shows in NY | Matilda The Musical
Matilda The Musical is a popular Broadway Show in NY. Consider enjoying this kid-friendly Show during your next stay at NY Accommodations.
Address:
Shubert Theatre | 225 West 44th Street, New York, NY 10036
About Matilda The Musical:
Matilda The Musical is a story that reaffirms what many people believe – big things often come in small packages. Matilda The Musical is one of the top Broadway Shows in NY. It tells the inspiring story of a gifted child, one who is unloved at home but supported by her teacher. Matilda tries to rid her school of its evil headmistress, Miss Trunchbull, and she uses her intelligence, wit, and psychokinetic powers to do so.
Are you looking for NY Accommodations that are close to the most popular Broadway Shows in NY? Choose NY Hotels in the Broadway Theater District and you'll be near them all.
Matilda The Musical is a delightful theatrical production based on the Roald Dahl children's book and it features wonderful music composed by acclaimed Australian musical comedian Tim Minchin. Matilda The Musical is one of the most critically-acclaimed Broadway Shows in NY, having already won 7 Olivier Awards – including the esteemed Best New Musical.
This Broadway Show also swept the board at the 2013 Tony Awards, earning 12 nominations and winning 4 Awards (including Best Performance by an Actor in a Featured Role in a Musical for Gabriel Ebert).
If you're looking for fun Things to do in NYC, sit down for a performance of Matilda The Musical and see how a little girl overcomes life with cruel parents – thanks to the help of a highly-loveable schoolteacher named Miss Honey. Matilda The Musical offers courage and cleverness – in equal amounts – so attend this Broadway Show to see how Matilda struggles to be the school's saving grace.
NYC
Visitor's Guide
Learn about all there is to do, see and experience in the world's greatest city!