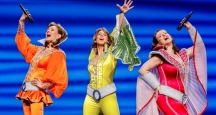 New York City Broadway Shows | Mamma Mia
New York City Broadway Shows are a can't-miss NY Activity. Mamma Mia, which opened in 2001, is a very popular choice.
Address:
Broadhurst Theatre | 235 West 44th Street, New York, NY 10036
About Mamma Mia:
Mamma Mia is a smash production that has been one of the top New York City Broadway Shows since its first performance, in October of 2001. This global sensation is set around the beloved disco hits from the colorful pop group Abba, and it tells the story of friendship and love – past, present, and future.
Mamma Mia celebrates life's triumphs and tragedies through dancing. It is the creation of British producer Judy Cramer and playwright Catherine Johnson – a pair who were inspired after meeting 2 members of Abba – Benny and Bjorn – while working with Tim Rice.
Cramer and Johnson saw the theatrical potential in Abba's hits, so they worked to fine tune a production that would debut in 1999. Mamma Mia became one of the most popular New York City Broadway Shows almost immediately after arriving in New York City, and watching a performance is still an NYC Event that many New York visitors want to experience today.
Mamma Mia has gone on to spawn other productions worldwide and it has been seen by 54 million people across the globe. It even inspired a record-breaking movie of the same name, starring Meryl Streep and Pierce Brosnan.
If you're looking for an NYC Hotel that is close to all of the top New York City Broadway Shows, reserve NY Accommodations in the Broadway Theater District. An NYC Hotel in the Broadway Theater District is also close to other exciting NYC Events that take place throughout the year, and it will be close to NYC Restaurants, New York Shopping, and more.
For an excellent night out in Manhattan, make Mamma Mia an NYC Event that is a "must-attend" on your list of Things to do in New York. At Mamma Mia, you may just find yourself dancing the aisles along with other theatergoers to popular songs like "Lay All Your Love On Me," "Super Trouper," and – of course – "Dancing Queen."
See Mamma Mia and you'll be whisked away to the sunny Greek Island of Kalokairi, where Sophie is dreaming of her forthcoming wedding. She's saddened that her mother Donna never told her about her father, however, so she has secretly invited 3 potential suspects from her mom's early days to her nuptials. As Donna struggles to confront her past, she takes a trip down memory lane recalling her times as a glam rocker. Will seeing ex-lovers rekindle old flames for Donna? See Mamma Mia and find out.
NYC
Visitor's Guide
Learn about all there is to do, see and experience in the world's greatest city!