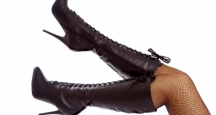 Broadway Shows NY | Kinky Boots
What are the top NYC Events? Consider Broadway Shows: NY's answer to What to do for an evening out? Kinky Boots opened in 2013, and is a hugely popular choice.
Address:
Al Hirschfield Theatre | 302 West 45h Street, New York, NY 10036
About Kinky Boots:
Kinky Boots is a smash hit Broadway musical that is taking the country by storm. Kinky Boots quickly became one of the most popular NYC Events on Broadway and it's already won 6 Tony Awards – including Best Musical. Kinky Boots features a fabulous score - written by Grammy Award-winning pop star Cyndi Lauper (making her theatrical music-writing debut) – and it's based on a true story, and a 2005 film.
Kinky Boots tells the tale of Charlie Price (Stark Sands), who has recently inherited a nearly-bankrupt shoe factory from his deceased father. Wanting to live up to his dad's legacy and save the family business, Charlie works hard to turn the factory around.
He finds the motivation he needs from a sassy drag performer – Lola (Billy Porter) – who inspires him to create a line of boots that are sturdy enough to support a man but fabulous enough to thrill a lady. The unlikely pair work together to save the factory – and with the help of their "Kinky Boots," they find that if you change your mind about someone, you can change your whole world.
If you're looking for Hotels in NYC that are near fun NYC Events like hot Broadway Shows, NY Hotels in the Broadway Theater District are some of your best choices. These Hotels in NYC are not only close to the top Broadway theatrical productions, they're near many fun Things to do in NYC like dining at top NYC Restaurants and Shopping in New York City.
NYC
Visitor's Guide
Learn about all there is to do, see and experience in the world's greatest city!