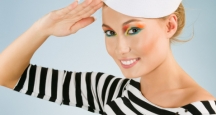 Broadway Theater NYC | Dames at Sea
Wondering "What to do in NYC?" Enjoy a bit of Broadway Theater. NYC's production of Dames at Sea is soon to open on Broadway.
About Dames at Sea:
Dames at Sea is one of the most fun experiences in Broadway Theater. NYC has so many wonderful theatrical productions available at any given time of year, but in 2015 it's Dames at Sea that is thrilling audiences.
Dames at Sea features dazzling dances and spectacular songs - in a navy-themed celebration that is mostly geared toward older theatergoers. This Broadway Show is directed and choreographed by 3-time Tony Award-nominee Randy Skinner and is based on the book by George Haimsohn and Robin Miller.
If you're looking for an NYC Hotel that offers many answers to "What to do in NYC?" nearby, choose an NYC Hotel near a Broadway Theater. NYC's Theater District sits in the heart of Manhattan and offers so much for the New York City traveler.
If you see Dames at Sea, you'll enjoy a wonderful musical featuring music written by Jim Wise. This tap-happy Broadway Show salutes the golden era of movie musicals and it provides an energy that is as big as the ocean.
Dames at Sea is one of a handful of outstanding Broadway Shows that Skinner has choreographed (others include 42nd Street and Irving Berlin's White Christmas). The whimsical story has been brilliantly reimagined for Broadway Theater. NYC offers many fun ways to enjoy an evening out, but if you see Dames at Sea you'll surely enjoy one of the best Manhattan experiences – one that is filled with hilarity, glamour, and more
NYC
Visitor's Guide
Learn about all there is to do, see and experience in the world's greatest city!