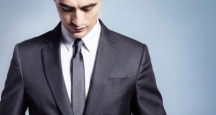 Broadway Shows NYC | American Psycho
American Psycho is a Broadway Show in NYC that will open in 2015. Attending a show on Broadway is a top NYC Activity.
Address:
Theater to be announced
About American Psycho:American Psycho is one of this year's highly-anticipated Broadway Shows. NYC almost saw this production run off-Broadway, but the show's producers and director – Rupert Goold – had their sights set on The Great White Way all along.
Even though the fate of American Psycho sat in limbo for a while, the show finally found its place on the Broadway Theater scene and it will now run in the heart of the Broadway Theater District - along with top Broadway Shows like The Phantom of the Opera and Wicked.
If you're looking for NYC Hotels near the top Broadway Theater productions, Hotels in NYC's Broadway Theater District – and Times Square Hotels – will be your best choice. At these Hotels in NYC, enjoy a great location near top Broadway Theater performances and near fun NYC Activities.
There are so many great NYC Activities to enjoy on a trip to Manhattan, but one of the most popular is seeing Broadway Shows. NYC's production of American Psycho may the perfect production for you if you're a fan of the 1991 Bret Easton Ellis novel, from which this Broadway Show draws its inspiration.
American Psycho tells the story of a Manhattan investment banker, Patrick Bateman, who is a serial killer. The production premiered last winter at London's Almeida Theatre, where Goold is Artistic Director. American Psycho received mixed reviews at the start, which prompted some changes to the script and score, but it looks like all is well now as the show sets off for an anticipated run on Broadway.
Executives in charge of bringing American Psycho to New York City have no Broadway Theater credits. Instead of relying on connections and years of experience to bring their show to Broadway, they used Kickstarter to raise about $150,000 in donations – which would help to first finance the American Psycho production at the Almeida. The team behind American Psycho hopes that the production's run on Broadway will be as popular and successful as other shows put on big big-name producers and directors.
NYC
Visitor's Guide
Learn about all there is to do, see and experience in the world's greatest city!