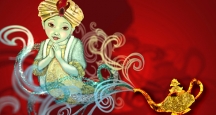 Kids Broadway Shows | Aladdin
Looking for fun Things to do in NYC for families? Enjoy Kids' Broadway Shows like Aladdin.
Address:
New Amsterdam Theatre | 214 West 42nd Street, New York, NY 10036
About Aladdin:
Are you looking for fun Things to do in NYC with your children? There are so many exciting New York Activities for families, and enjoying Kids' Broadway Shows is one of them. New York City offers a variety of wonderful plays and productions that little ones enjoy – like Aladdin, an outstanding production that features many beloved characters.
Aladdin runs at the New Amsterdam Theatre, close to all of the NYC Hotels in the Broadway Theater District. This family-friendly musical is a top choice among NYC locals and tourists, drawing audiences near nightly into a world of dreams and imagination.
Aladdin is an all-new comedy that brings Disney's thrilling tale to life – in a spectacular theater setting. Aladdin is a story that most people already know from the movies, but now it's one of the top Kids' Broadway Shows – and it's filled with moments that capture how bold and beautiful the world around us can be.
With just a single rub of a magic lamp, theatergoers are whisked away into an exotic land full of adventure and daring encounters. Aladdin offers some wonderful lessons for children, but it makes adults think a bit too about how a wish at any point in life can make big things happen.
Enjoy laughs, romance, and so much more at Aladdin, an unforgettable New York Theater experience that includes all of the songs from the cherished Academy Award-winning score (and even some tunes written especially for Broadway).
See a Whole New World in a Whole New Way at a performance of Aladdin, one of the most popular Kids' Broadway Shows and a smash hit that is directed and choreographed by Tony Award-winner Casey Nicholaw. Tony Award-winner Alan Menken composed Aladdin, and the show's lyrics are penned by lend Howard Ashman and Tony Award-winner Tim Rice.
NYC
Visitor's Guide
Learn about all there is to do, see and experience in the world's greatest city!