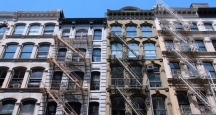 Tenement Museum | NYC Attraction
If you're wondering What to do in NYC then take a peek into the past with a visit to the Tenement Museum – a popular NYC Attraction.
Address:
103 Orchard Street New York, NY 10002
Visit the Tenement Museum, a popular NYC Attraction, and see how 19th and 20th century immigrants lived, worked, and played.
About the Tenement Museum:
The United States was once known as a country that welcomed immigrants from around the world, and many of the immigrants who helped shape this country lived and worked in New York City. A large number of these 19th and 20th century immigrants lived in tenements and, while it's hard to imagine large families living in such cramped quarters, The Tenement Museum is an NYC Attraction that provides a glimpse into the past and into the daily lives of these families. 
The building that houses this NYC Attraction was built in 1863 and over the years was home to more than 7,000 immigrants from several countries. When the current owners took on the task of restoring these apartments, which had been empty for 50 years, they knew the job would take time, but it was well worth the effort. The Tenement Museum first opened in 1992 with just one restored apartment on display.
During the restoration process, more than 2,000 artifacts were discovered including toys, newspapers and objects used in daily life. These items, along with other period pieces, are now on display in The Tenement Museum. The collection helps to paint a vivid picture of what life was like for the building's residents of different time periods. To gain even more insight, visitors have the option of visiting with costumed interpreters from different eras. These costumed guides will bring the struggles and triumphs of 19th or 20th century immigrants to life.
The Tenement Museum has come a long way since it opened with that single apartment on display. Today, visitors to this NYC Attraction will see several restored apartments as well as businesses that were run by the building's former residents.
The Tenement Museum offers an important look at the people from around the world who helped to shape New York City - and the entire country.  Consider a visit during your next stay at an NYC Hotel.
Hours:
Hours vary by season. Please check the website for current hours of operation.
Admission:
Prices vary depending on the tour selected. 
NYC
Visitor's Guide
Learn about all there is to do, see and experience in the world's greatest city!