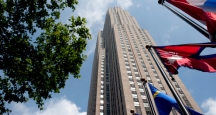 Rockefeller Center | New York City Attraction
Rockefeller Center is home to many popular New York City Attractions such as Radio City Music Hall and NBC Studios. Located near top NY Hotels, Rockefeller Center is a can't-miss spot for many visitors.
Address:
45 Rockefeller Center New York, NY 10111
Rockefeller Center is a New York City Attraction that is home to many other Attractions. Stop by during your visit to explore this iconic compound.
About Rockefeller Center:
Rockefeller Center was built in the 1930's, and today it is home to many popular New York City Attractions. When you visit Rockefeller Center, you can pick from several Activities. You probably won't be able to see everything Rockefeller Center has to offer a single day, so if you want to fully explore this New York Landmark, be sure to set aside at least two days. Rockefeller Center is located near many popular NY Hotels. 
Rockefeller Center includes 22 acres and houses several buildings including Radio City Music and NBC Studios. Below are a few of the most popular things to see at this NYC Attraction. 
Top of the Rock Observation Deck:
Enjoy sweeping views of New York City from this six-level observation station. The top levels put you 850 feet above the street and offer views of the Brooklyn Bridge and other New York Landmarks.
NBC Studio Tours:
Get a behind the scenes look at NBC television studios. See a broadcast control room, sets from Saturday Night Live and more.
Radio City Music Hall Tour:
Love The Rockettes? Then you can't miss this Tour! You'll see behind the curtain and learn what a day is like for a member of this popular dance troupe. Add-on experiences will allow you to meet a Rockette or, for young visitors, go through a mock audition.
Saturday Night Live TV Show Tapings:
Shows such as Saturday Night Live are taped at Rockefeller Center and visitors can be part of the live studio audiences. Getting tickets for Saturday Night Live isn't easy, and many visitors find the best bet is to show up the morning of taping to see if there are tickets that were not claimed. 
Spend some time exploring this New York City Attraction during your next stay at an NY Hotel. 
NYC
Visitor's Guide
Learn about all there is to do, see and experience in the world's greatest city!