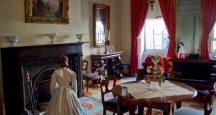 The Merchant's House Museum | NYC Attractions
The Merchant's House Museum is an NYC Attraction that provides a look at the lives of wealthy New Yorkers in the early 20th century.
Address:
29 East 4th Street New York, NY 10003
In 1832 Joseph Brewster built a beautiful brick and white marble home on 4th Street. Three years later he sold the house to Seabury Tredwell, and the Tredwell family occupied the residence for almost 100 years. Perfectly preserved, the house is now a Museum that offers visitors a chance to step back in time.
About The Merchant's House Museum:
Federal homes like the Merchant's House once dotted much of Manhattan, and 300 such homes still stand. None, however, offer the unaltered glimpse into the daily lives of upper class New Yorkers that you'll find at The Merchant's House Museum.
The final occupant of the house was Gertrude Tredwell. Upon her death in 1933 she left the entire house and all of its contents to be used as a Museum. The result is a time capsule that paints a picture of the lives of the Tredwell family and of their four servants.
The Attraction in NY is a National Historic Landmark, and it contains more than 3,000 items that belonged to the family including furniture, artwork, clothing and the family's piano. Compare the opulence of the sitting room and the family bedrooms with the stark simplicity of the servant's quarters. When you walk through the door it is like stepping back in time. No other Museum in the city can provide such an accurate look at this time period.
Hours:
Thursday through Monday: 12 p.m. to 5 p.m.
Admission:
$10
Under 12 is free
NYC
Visitor's Guide
Learn about all there is to do, see and experience in the world's greatest city!