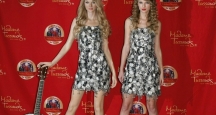 Madame Tussauds | NYC Attraction
Madame Tussauds is a can't-miss NYC Attraction. Add this popular NY Thing to Do to your itinerary during your next visit to the City.
Address:
234 West 42nd Street New York, NY 10036
Trying to spot celebrities while out and about is a fun NY Thing to Do, but when you visit Madame Tussauds you'll be guaranteed to see hundreds of celebrities, world leaders, and other notable figures. 
About Madame Tussauds:
Times Square is home to much to do and see. Tucked in amidst the bright lights and busy streets is Madame Tussauds – an NYC Attraction that allows visitors to rub elbows with some of the world's most well-known people.
The incredibly realistic wax figures on display here include singers, actors, royalty, sports legends, and other people of note. The figures look so life-like that it is easy to believe that a huge amount of work goes into creating each one. It takes more than 800 hours of work by a team of artists to create just one figure. The results are well worth it, and visitors sidle up to their favorite star or historical figure for a photo op unlike any other.
The NYC Attraction shows its figures in the following categories: Music, Sports, Film & TV, World Leaders, Pop Culture, and Spirit of New York. Another exhibit tells the life story of Madame Tussaud – the woman who started it all.
Madame Tussauds offers a fun and exciting experience for every guest. Walk the red carpet amidst the flash of paparazzi's cameras as you enter a party where Brad Pitt and George Clooney are among the guests. Take a picture with Will and Kate or President Obama as you make your way through the exhibits.
Don't miss your chance to see some of your favorite stars and political figures during your next visit to NYC. Stop by Madame Tussauds for an afternoon spotting all your favorite A-listers as you enjoy this NY Thing to Do!
Hours:
Hours vary by season. Check Madame Tussauds' website for current operating hours.
Admission:
Ages 13 and up: $36
Ages 4 to 12: $29
Under 3: Free
NYC
Visitor's Guide
Learn about all there is to do, see and experience in the world's greatest city!