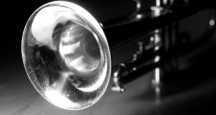 Louis Armstrong Museum | NYC Museums
The Louis Armstrong Museum is an NYC Museum that pays homage to one of the greatest jazz musicians of all time. For music lovers, this is a can't-miss NY Thing to Do.
Address:
34-56 107th Street Corona, NY 11368
Louis Armstrong made a lasting impact on the world of music, and fans can visit the home where he lived for more than 3 decades.
About the Louis Armstrong Museum:
Even people who are not particularly fond of jazz music know the song Wonderful World as performed by Louis Armstrong. The appeal of the song extends to a variety of audiences, much like Armstrong himself. His immense popularity explains why some people consider the Louis Armstrong House Museum to be a must-visit NYC Museum during a stay at a Hotel in New York City.   
After Louis Armstrong made his fortune, he could have moved anywhere that he wanted and purchased a huge, luxurious home. Instead, he chose to stay in his modest home in a Brooklyn neighborhood. Armstrong and his wife live in the home for 28 years and today that home is a popular Attraction in New York.
When you step into the NYC Museum it is like stepping back in time. Many of the rooms look just as they did when the Armstrong's lived there. Many of the furnishing and other items that were used by the Armstrong family remain in the Louis Armstrong House Museum.
One interesting object on display, which was added for the Museum's 10th anniversary is a life mask of Armstrong. This beautiful piece of art is a wonderful tribute to the man whose music touched so many people. Another highlight of the Museum's collection is a 1934 trumpet that was played by Armstrong.
Visitors to the NYC Museum will also hear recordings Armstrong made during his time at home. Guests will hear him playing his trumpet and relaxing with friends. A tour of this New York Attraction provides an intimate look at Armstrong and the place that he called home for so many years. 
Hours:
Tuesday through Friday: 10 a.m. to 5 p.m.
Saturday and Sunday: 12 p.m. to 5 p.m.
Admission:
General admission: $10
Under age 4 is free
NYC
Visitor's Guide
Learn about all there is to do, see and experience in the world's greatest city!