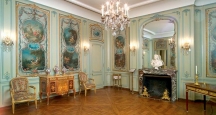 The Frick Collection | NY Attractions
The Frick Collection was once a Gilded Age home. Today, this NY Attraction is home to an impressive collection of art. Spend an afternoon browsing the treasures at this NYC Museum.
Address:
1 East 70th Street New York, NY 10021
The many fabulous NYC Museums are known for being some of the best in the world. Some NY Attractions, however, are often overshadowed by their more famous neighbors. The Frick Collection, while well known among art historians, is sometimes overlooked by visitors, but it is home to an impressive collection of Old Master paintings and European sculpture.
About The Frick Collection:
The Frick Collection is home to a wonderful collection of permanent exhibits, and it also hosts exciting temporary exhibits which provide an opportunity see, for example, works that are rarely on display in the United States such as The Girl with the Pearl Earring by Vermeer and The Goldfinch by Fabritius.
Another splendid feature of The Frick Collection is the building itself. The NYC Museum is housed the former home of the Frick Family, and it is one of the few Gilded Age mansions that still stand in New York City. This once opulent home to Henry Clay Frick, who died in 1919, is a reminder of the way the very wealthy once lived in New York City.        
Much of the artwork on display in The Frick Collection was collected by Henry Clay Frick. Since his death, the Museum has continued to purchase pieces which are on display alongside those from Frick's own collection. A visit to this NY Attraction offers the opportunity to see a Gilded Age home and an impressive art collection. Add this to your must-see list during your next visit to the City. 
Hours:
Tuesday through Saturday: 10 a.m. to 6 p.m.
Sunday: 11 a.m. to 5 p.m.
Admission:
All visitors: $20 (note that children under 10 will not be admitted)
Sundays are pay what you wish from 11 a.m. to 1 p.m.
NYC
Visitor's Guide
Learn about all there is to do, see and experience in the world's greatest city!