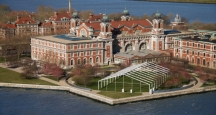 Ellis Island | NYC Attractions
Ellis Island is an historic NYC Attraction that attracts tourists from around the world. Spend a day exploring this Attraction during your next stay at a New York City Hotel.
Address:
Ellis Island New York, NY 10004
Many families can trace their American roots to one place: Ellis Island. Millions of immigrants passed through this spot from 1892 through 1954. Today, visitors come to learn about the history of Ellis Island, and to learn about the history of their own family.
About Ellis Island and the American Family Immigration History Center:
For many visitors to this NYC Attraction, the stop here is to learn about American history and the lives of some of the millions who entered the United States through Ellis Island. For others, the journey to Ellis Island is more personal.
The American Family Immigration History Center allows visitors to search through more than 25 million archives in search of information about their own family members' journeys through Ellis Island. Some even find pictures of the ship their ancestors came over on as Ellis Island has an impressive collection of more than 900 ship pictures. The Port of New York port of arrival records can be searched and purchased.
The Ellis Island Tour allows visitors to see the Island through the eyes of an immigrant. The audio tour will take visitors through the same steps that would have greeted an early 20th century immigrant.
For some, a visit to Ellis Island is a deeply moving reminder of where they came from. For all visitors, it is a chance to learn about the important roles that immigrants played in shaping the United States into the great country it became.
Add Ellis Island to your list of can't-miss NYC Attractions during your stay at a New York City Hotel.
Hours:
Ellis Island is open every day except Christmas Day. Hours vary by season, so check their website for current operating hours.
Admission:
There is no admission fee to visit Ellis Island, but you will have to pay for the ferry ride.
The ferry costs $18 for adults and $9 for children 4 to 12. Ages 3 and under ride the ferry for free. 
NYC
Visitor's Guide
Learn about all there is to do, see and experience in the world's greatest city!