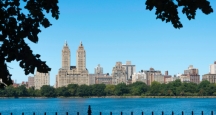 Central Park | NYC Attraction
Central Park boasts beautiful walking paths, but there is much more to this NYC Attraction. Wondering What to do in NY? Spend a day exploring all there is to do and see at Central Park.
Address:
59th Street to 110th Street
Central Park is more than just a place to enjoy a stroll and some people watching. The NYC Attraction offers lots of Things to Do and is a popular answer to What to do in NY.
About Central Park:
The 840-acre Central Park opened in 1857. It was the first time a section of land was set aside as a public park. More than 150 years later, the Park continues to provide a green space in the middle of the City where both locals and guests can go to spend a day enjoying the outdoors.
Wondering What to do in NY? No matter the season, the 35 million people who visit the park each year always find something to do. During the summer, enjoy some time on the water by renting a rowboat. You can also have someone else to all the work by option for a gondola ride around the lake instead. When the temperatures drop, ice skating in Central Park is a hugely popular Thing to do in New York City.
Simply walking around Central Park is another option. Explore the many gardens and tree stands, including the largest grouping of American Elms in the world. Children will be thrilled for the chance to ride the carousel which was added to Central Park in 1951 and features antique carved horses from 1908.
Six miles of paved roads criss-cross through this NYC Attraction, and on the weekends no vehicle traffic is allowed. That makes these roads the perfect places to enjoy a jog or a bike ride. Those who have trouble getting around can opt for a pedicab ride around Central Park. Others choose to take a carriage ride.
Central Park is also home to Attractions like the Central Park Zoo and Belvidere Castle. The NYC Attraction, which became a National Historic Landmark in 1962, hosts popular NY Events throughout the year such as Shakespeare in the Park and concerts by the New York Philharmonic.
Add a visit to this NYC Attraction to your list of New York Things to Do during your next visit.
NYC
Visitor's Guide
Learn about all there is to do, see and experience in the world's greatest city!