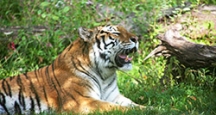 Bronx Zoo | New York Attractions
The Bronx Zoo is a family-friendly New York Attraction that has been delighting visitors for more than 100 years. Spend an afternoon at this beloved Attraction during your next stay at a New York City Hotel.
Address:
2300 Southern Boulevard New York, NY 10460
Then next time you stay at a New York City Hotel take a walk on the wild side with a visit to The Bronx Zoo.
About the Bronx Zoo:
This New York Attraction is one of four zoos and one aquarium that are run by the Wildlife Conservation Society. While visiting these New York Attractions is a popular Thing to do in NY, the main goal of the Society is to protect endangered species and help to shore up the natural habitats of those which are endangered.
The Bronx Zoo encompasses 265 acres and includes 6,000 animals. The zoo opened for the first time in November of 1899, and has been a popular New York Attraction ever since. Visitors love to see the many large animals such as giraffes, tigers, polar bears and gorillas. Other animals on exhibit are the red panda, a rare snow leopard as well as dozens of species of birds, fish, reptiles and even insects. The beautiful Monarch Butterfly and the less-beautiful-but-still-cool Madagascar Hissing Cockroach can be seen here.
The Bronx Zoo is open all year but, because some animals are sensitive to the cold, many exhibits are only open during the warmer months. In addition to viewing the exhibits, visitors can also enjoy special animal demonstrations that allow a closer look at some of the zoo's residents.
The Bronx Zoo is a hugely popular New York Attraction, and your visit supports the many important conservation initiatives of the Wildlife Conservation Society.  Add a visit to the Zoo to your list of things to do during your next stay at a New York City Hotel.
Hours:
Hours vary by season. Please visit the Bronx Zoo website for current hours of operation.
Admission:
General Admission
Adults: $16.95
Ages 3 to 12: $12.95
Under 3: Free
Total Experience (include zoo admission and special rides and attractions)
Adults: $29.95
Ages 3 to 12: $19.95
Under 3: Free
NYC
Visitor's Guide
Learn about all there is to do, see and experience in the world's greatest city!