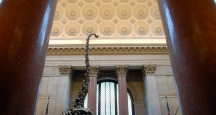 American Museum of Natural History | New York Museum
The American Museum of Natural History is a popular New York Museum that has something for the entire family to enjoy. Add this NY Attraction to your itinerary during your next visit to the City.
Address:
Central Park West at 79th Street New York, NY 10024
The American Museum of Natural History is one of the most popular of New York Museums. Loved by visitors of all ages, this NY Attraction has been features in books and popular movies like A Night at the Museum.
About the American Museum of Natural History:
If you're planning a visit to New York then a visit to the American Museum of Natural History is a must – especially if you have kids or are a first-time visitor. This New York Museum has always been very well-known, but since its appearance in A Night at the Museum, it is even more popular.
The Museum, which opened in 1869, features 27 connected buildings and 45 exhibit halls.The New York Museum's collection includes 32 million specimens. While the Museum is 1.6 million square feet, only a small percentage of the collection can be on display at any one time. That means that you can see something new every time you visit.
Popular exhibits include Hall of African Mammals, Hall of Meteorites, Hall of Ocean Life, Hall of Gems and Minerals, Fossil Halls and the Hall of Human Origins. While many visitors choose to explore the Museum at their own pace, a number of guided tours are also available. First-timers are encouraged to take part in the Highlights Tour. Other popular tours are the Theodore Roosevelt Tour, the Whales Tour, Dino Tour, and Night at the Museum Tour.
Download the American Museum of Natural History Explorer app to your smartphone before your visit. The app includes help finding exhibits and bathrooms and also includes fun treasure hunts. If you don't have a smartphone, you can borrow a device at the New York Museum's customer service desk.
Hours:
Daily: 10 a.m. to 5:45 p.m.
Closed Thanksgiving and Christmas Day
Admission:
Adults: $22
Ages 2 to 12: $12.50
Under 2: Free
NYC
Visitor's Guide
Learn about all there is to do, see and experience in the world's greatest city!