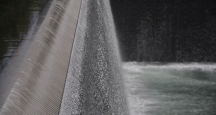 9/11 Memorial and Museum | NYC Attractions
The 9/11 Memorial and Museum is an NYC Attraction most wish had to reason to exist. Visit this somber Attraction during your next stay at an NY Hotel.
The 9/11 Memorial and Museum commemorates one of the most tragic days in the country's history. For some it is a place to remember loved ones. For others it is a chance to reflect on the day that the United States changed forever.
About the 9/11 Memorial and Museum:
This NYC Attraction attracts visitors from all over the world. The Memorial, which opened on the 10th anniversary of the attacks, includes a place to quietly remember those who died on September 11, 2001.  The Museum, which opened in May of 2014, includes touching exhibits and artifacts.
The Memorial features 2 reflecting pools etched with the names of all 2,983 victims. The names are engraved on to 76 bronze plates. Each of the reflecting pools features a waterfall, and these are the largest manmade waterfalls in the United States.
Another feature of the Memorial is the Survivor Tree. This Callery Pear tree was badly burned during the attacks, but it was still alive. After being nurtured by botanists, the tree was added to the Memorial as a symbol of strength.
The Museum portion of this NYC Attraction features fragments of walls from the buildings that were leveled in the attacks, 911 calls from that day, photographs of all of the victims, police cars, fire trucks, and other artifacts. Visitors will also be able to hear first-hand accounts of the day from survivors who have told their stories, recordings of which are available at the Museum.
Visitor passes must be secured to visit the Memorial. There is no charge to visit the 9/11 Memorial site.  Passes can be reserved over the phone or on the Memorial's website. During your stay at an NY Hotel, consider visiting the 9/11 Memorial and Museum.
Small tribute items may be left at the Memorial. These items will be collected by the staff, and some of the items will be kept and displayed in Museum exhibits. 
Hours:
Memorial: 7:30 a.m. to 9 p.m.
Museum: 9 a.m. to 7 p.m.
Extended Museum hours are available during some times of year. Check the NYC Attraction's website for current hours.
Admission:
Adults: $24
Ages 7 to 17: $15
6 and under: Free
Free admission for all visitors is available every Tuesday from 5 p.m. to close. 
NYC
Visitor's Guide
Learn about all there is to do, see and experience in the world's greatest city!