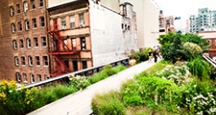 Walk the High Line | NY Activities
Walking the High Line is a scenic choice when you're looking for NYC Things to Do.
Address:
820 Washington Street New York, NY 10014
While not the most famous park in New York City, the High Line is quickly becoming a popular Attraction in NY. Visiting the High Line is a popular NYC Thing to Do for both locals and visitors to the City.
About Walking the High Line:
Once nothing more than a stretch of railroad tracks, the High Line is now a roof top garden that sits 30 feet above the bustling City streets. The Friends of the High Line are responsible for the care of the more than 200 species of plants, trees, and flowers, and it's easy to see why spending time at the High Line is such a popular NY Activity.
In addition to the lovely plants and flowers, the High Line also features a play area where kids can burn off some energy while their parents watch from one of the nearby benches. Spots for meeting friends and enjoying a picnic are other features that attract visitors.
The High Line is being completed in stages, and new features and additions are still being added. It is already a beautiful addition to the City, and it welcomes more than 5 million visitors each year. When guests are looking for a casual NY Activity then a visit to the High Line is a great choice.
The High Line is located near other popular NYC Things to Do, such as visiting Chelsea Piers, so it is easy to stop by during a day out exploring New York City. Also nearby are a number of spots to enjoy a drink or a meal.
Throughout the year, special NY Activities are hosted at the High Line. A popular example is the stargazing events offered by the Amateur Astronomers Association. Tai Chi classes and the yearly Velvet Gloves Gentlemen's Boxing match are other examples of NYC Things to Do that take place at the High Line.
Consider enjoying this elevated rooftop Attraction during your next visit to New York City.  
NYC
Visitor's Guide
Learn about all there is to do, see and experience in the world's greatest city!