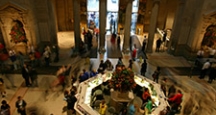 Visit NYC Museums | NYC Activities
Whatever your interests, Visiting NYC Museums is a top choice when you're looking for NY Things to Do.
New York is home to many world-class museums, so it's easy to see why this NYC Activity is popular with visitors of all ages.
About Visiting NYC Museums:
Want to learn about military history? Science? Art? Looking for an NYC Activity that will give the kids a chance to do some hands-on learning? Then plan to spend some time Visiting NYC Museums. No matter your interest, you'll find something to suit your tastes. Below are just a few of the Museums that make this a popular NY Thing to Do. 
Lower East Side Tenement Museum
103 Orchard Street New York, NY 10002
Tel: 212.982.8429
National September 11th Museum
180 Greenwich Street New York, NY 10007
Tel: 212.312.8800
Metropolitan Museum of Art
1000 5th Avenue New York, NY 10028
Tel: 212.535.7710
American Museum of Natural History
Central Park West & 79th Street New York, NY 10024
Tel: 212.769.5100
Intrepid Sea, Air & Space Museum
Pier 86, W 46th St & 12th Ave, New York, NY 10036
Tel: 212.245.0072
Frick Collection
1 East 70th Street New York, NY 10021
Tel: 212.288.0700
Museum of Modern Art
11 West 53rd Street New York, NY 10019
Tel: 212.708.9400
Children's Museum of the Arts
103 Charlton Street New York, NY 10014
Tel: 212.274.0986
Louis Armstrong House
34-56 107th Street Corona, NY 11368
Tel: 718.478.8274
Museum of the American Gangster
80 Saint Marks Place New York, NY 10003
Merchant's House Museum
29 East 4th Street New York, NY 10003
Tel: 212.777.1089
Museum of the City of New York
1220 5th Avenue New York, NY 10029
Tel: 212.534.1672
Brooklyn Children's Museum
145 Brooklyn Avenue Brooklyn, NY 11213
Tel: 718.735.4400
Add a visit to some of the City's top Museums to your list of can't-miss NY Things to Do. 
NYC
Visitor's Guide
Learn about all there is to do, see and experience in the world's greatest city!