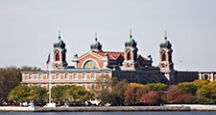 Explore Ellis Island | NYC Activities
Exploring Ellis Island is a Thing to do in NYC that is a must for history buffs, but visitors of all ages will enjoy this NYC Activity.
Ellis Island
Tel: 212.561.4500
Exploring Ellis Island is one of the top choices for visitors looking for Things to do in NYC. This historically-important Attraction welcomes more than 3 million visitors each year.
About Exploring Ellis Island:
When you visit Ellis Island, you will be among casual tourists who just want to check off another item on their list of can't-miss NYC Activities. Other visitors, however, are there to trace their own family histories and to walk in the footsteps of their ancestors who came to this country via Ellis Island.
More than 12 million immigrants were processed through Ellis Island from 1892 to 1954. Today, many families can trace their roots back to this place. With 25 million archives to explore, including ship manifests and photographs of nearly 1,000 ships, people come from all over to find tidbits of information about their family history.
As you enjoy this NYC Activity, you will have the chance to trace the steps of an immigrant. These tours allow you to follow the story of a particular immigrant, and you'll learn how they fared both before they came and in the years that followed their immigration.  
You can participate in this NYC Thing to Do via a self-guided tour, but ranger-led tours are free and offer a chance to ask questions and learn a bit more about Ellis Island. The Hard Hat Tour, which costs $25, gives visitors a chance to also visit the hospital complex on Ellis Island. Many immigrants were sent to the hospital to be cured of an illness before being allowed to enter the United States. Others were turned back because of a disease or condition that could not be cured. Call 877.523.9849 to schedule a Hard Hat Tour. 
When you're looking for NYC Things to Do, a Visit to Ellis Island is a great choice. This NYC Activity offers a glimpse at an important time in New York's history, and the people who entered here helped to shape this country.  
Hours:
Ellis Island is open daily except for Christmas Day. Hours vary by season.
Admission:
Ellis Island does not charge an admission fee, but there is a fee to ride the ferry. Adults ferry tickets are $18. Kids ages 4 to 12 can ride the ferry for $9. Kids 3 and under are free. 
NYC
Visitor's Guide
Learn about all there is to do, see and experience in the world's greatest city!