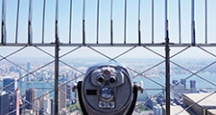 Enjoy the View from the Empire State Building | NYC Activities
Enjoying the view from the Empire State Building is a top Thing to do in NY, and visitors of all ages love this NYC Activity.
Address:
350 Fifth Avenue New York, NY 10118
More than 3.5 million people will enjoy this NYC Activity each year. If you're looking for Things to do in NY then head to this iconic building.
About Enjoying the View from the Empire State Building:
Being featured as King Kong's perch is only one of this building's claims to fame. The Empire State Building is a National Historic Landmark, and was named one of the Seven Wonders of the Modern World. All of those things are great, but it's the views that make a visit to the Empire State Building a top NYC Activity. 
Before you get on the elevator that will take you to the 86th floor observatory, you will stop at the 80th floor. The Dare to Dream exhibition is located on this floor, and visitors here will learn about what it took to create this engineering marvel. From start to finish – every step is documented.  
When you move on to the 86th floor, you will enjoy lovely views, but for the very best views you will want to head to the top deck. If you are lucky enough to visit on a clear day then you'll be treated to breathtaking views of more than 80 miles away. The 360 degree tower offers many vantage points, making it easy to see why Enjoying the View from the Empire State Building is such a popular Thing to do in NY. 
Some visitors choose to take an early morning tour of the Empire State Building. There is nothing like looking out and seeing the morning sun light up the City skyline.  An audio tour is also available. This tour offers interesting details about the building that will enhance your visit.  
Whether you come in the morning or late at night (This NYC Activity is available until 2 a.m.), you'll enjoy amazing views and be able to check an iconic Thing to do in NY off of your list.
Hours:
Daily - 8 a.m. to 2 a.m.
Admission:
Observation and Top Deck - $32.00 to $85.00 
NYC
Visitor's Guide
Learn about all there is to do, see and experience in the world's greatest city!