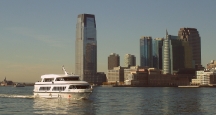 Enjoy a New York Harbor Cruise | Activities in NY
Taking a New York Harbor Cruise is an NYC Activity that is available throughout the year.
New York Harbor Cruises are an Activity in NY that offer the chance to learn about the City while enjoying some time on the water. This NYC Activity has options that will appeal to visitors of all ages.
About Enjoying a New York Harbor Cruise:
If you'd like to enjoy a New York Harbor Cruise during your next visit to the city then you'll be pleased to find that there are several options. Sightseeing cruises, romantic dinner cruises, and special event cruises are among the top choices for this Activity in NY.
Daytime sightseeing cruises offer the chance to see several top Attractions. During this NYC Activity, you'll see the Colgate Clock, the Brooklyn Bridge, Battery Park, the Statue of Liberty, the Freedom Tower, and much more.  Some of the sightseeing tours allow passengers to disembark to get a better look at some of the most iconic Attractions in New York.
Dinner cruises are another popular choice for enjoying a New York Harbor Cruise. Dining, dancing, and drinks are features of this Activity in NY. Of course, the highlight of a nighttime Harbor Cruise is the chance to see the beautiful city lights as you take in the City skyline. 
During the holidays, special cruises offer a fun way to celebrate. Christmas dinner cruises, New Year's Eve celebration cruises, and a July 4th Fireworks cruise are a few of the popular options. These cruises tend to sell out well in advance, so be sure to make your reservation ahead of time.  
Some of the companies that offer New York Harbor Cruises are Circle Line Sightseeing (212.742.1969), Classic Harbor Line (212.627.1825), and Spirit of New York (866.483.3866.) Details of available cruises and pricing information can be found online. Reservations can also be made by visiting the websites of these tour companies.
Add this NYC Activity to your list of Things to do in New York during your next visit to the City. 
NYC
Visitor's Guide
Learn about all there is to do, see and experience in the world's greatest city!