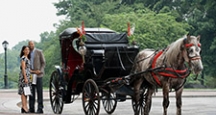 Carriage Rides in Central Park | Activities in NY
Carriage Rides in Central Park are a romantic NYC Activity, but they are also an NY Thing to Do for families who want a fun way to see Central Park.
Carriage Rides in Central Park have been a popular Activity in NY for many years. Whether you want to make memories with your family or want a very romantic Thing to do in NYC, Carriage Rides are a perfect choice.
About Carriage Rides in Central Park:
Imagine taking in the scenery of Central Park in an open-air carriage with the sound of the clopping of horses' feet playing in the background. This image is iconic, and thousands of visitors enjoy this Activity in NY each year.
The NYC Activity is a too-good-to-be-true marriage proposal idea, but it is also an Activity that is enjoyed by those who just want a unique way to see Central Park. The Carriage operators offer a number of packages (including very special proposal packages), so there is something to suit every visitor.
Same day carriage rides are available, but they typically cost a bit more than if you book your spot ahead of time. Also, there is the chance that the NYC Activity will be booked solid on any given day, so it's always best to reserve your Carriage Ride in Central Park in advance. If you want to book one of the special packages offered by the tour operators then those reservations will need to be made in advance.
If you have never enjoyed this NYC Activity then you should do so on your next visit. While very popular, Carriage Rides in Central Park are often under fire and in danger of being eliminated. The controversy surrounds the horses used for this Activity in NY and whether or not they are properly treated. Most operators are very open about the care of their horses which helps to ease most people's minds on the matter.
This Activity in NY is offered throughout the year, and each season has its charm. During the spring, you'll see all of Central Park's flowers in full bloom. Winter brings the chance to snuggle in a carriage and ride over the snow-blanketed Park. The only time this NYC Activity is not available is during very cold or other inclement weather.
Reservations can be made online or by calling the operators directly. The New York Carriage Company is one of the operators that offer Carriage Rides in Central Park, and they offer a number of packages to suit every visitor. Add this popular NYC Activity to your list of can't-miss Things to do in New York City.  
NYC
Visitor's Guide
Learn about all there is to do, see and experience in the world's greatest city!