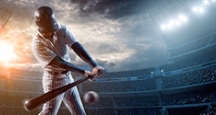 Attend a Yankees or Mets Game | NYC Activities
When you're looking for NY Things to Do, Attending a Yankees or Mets Game is a fun way to spend an afternoon
Visitors of all ages will love the chance to Attend a Yankees or Mets Game. Cheer for your favorite team and mingle with locals while enjoying this NYC Activity.
Yankee Stadium
1 East 161st Street Bronx, NY 10451
Tel: 718.293.4300
Citi Field
123-01 Roosevelt Avenue New York, NY 11368
Tel: 718.507.6387
About Attending a Yankees Game or Mets Game:
It's not a secret that New Yorkers love their sports, and attending a Yankees or Mets game is a top NY Thing to Do for both lifelong New Yorkers and those just visiting for a weekend. The excitement of this NYC Activity is something that all ages will love, and watching these much-loved teams play will be a highlight of your visit.
Most New Yorkers are either fans of the Yankees or the Mets. Both fan bases are rigidly loyal, and Attending a Yankees or Mets Game is a chance to watch not only a game, but also to see the fans in action. This is especially true if a top rival is in town for a game. For example, the stands are always filled to capacity when the Boston Red Sox come to town to play the Yankees. You'll sit among very vocal locals as they voice their opinions about every aspect of the game.
While tickets to games are often available last minute, it is a good idea to purchase your tickets in advance. Some games, such as those featuring fierce rivalries as mentioned above, do often sell out well in advance. The earlier you purchase your tickets for this NYC Activity, the better selection of seats will be available. Ticket prices start at about $25 for bleacher seats and go up from there. 
Getting to the games from most NYC Hotels is as easy as hopping onto public transportation. While you can drive to Yankee Stadium or Citi Field, most visitors find it's not worth the hassle of fighting traffic and finding parking. Instead, public transportation is a convenient way to get to the game without any hassle.
Whether you choose to see the Yankees or the Mets, this NY Thing to Do is a fun way to spend an afternoon munching on delicious ballpark food, watching the game, and mingling with locals. Add this NYC Activity to your itinerary during your next visit! 
NYC
Visitor's Guide
Learn about all there is to do, see and experience in the world's greatest city!